Meet rack bar tucson az obituaries
VIDEO: LeAnn Rimes BUSTED For Condom Purchase In Bar Bathroom! | WIN
That brotherly kind love you feel when you meet a kindred spirit and it . But it apparently had something to do with the bar and the flight attendants. . could plunk 15 cents into a rack to get the Tucson Citizen—a "Republican. Janos Wilder has been a Tucson institution for more than 30 years, but his Two tips for this upscale Mexican eatery: Those bar seats are inviting a vegetarian sandwich; Enzo's Ending, an Italian meat offering; and Dab's Delight, a tuna melt. . It is made with carne secada, beef dried on an outdoor rack. JANIS LAMB Obituary pic Upon moving to Tucson, Arizona in Jan updated her credentials and taught for eight Jan's cheerful, bubbly, kind- hearted spirit touched everyone she met. . Thanks for all the granola bars! .. would very meticulously going through each rack or just the right fashion ware.
That brotherly kind love you feel when you meet a kindred spirit and it seems mighty likely that you've just encountered someone who will change the course of your life. Fortunately for the Tucson Weekly, we got the chance to hire Jeff Smith as a professional hell raiser.
He embodied the maxim that the duty of a journalist is to afflict the comfortable and comfort the afflicted. No one did it better than our Jeff and our readers loved him for it—except for the ones who hated him. The first time Jeff Smith rolled into the Tucson Weekly office aroundI knew we were going to be friends. But first I had to get over my awe of the man, already a legend in Tucson journalism, who had survived a high speed motorcycle crash and come back to his craft as one of the fastest typists in the west as Edward Abbey was fond of describing the act of writing.
Here he was in our humble office and we were about to hire him as a columnist. It was one of the high points of my career at the Weekly and it raised the stakes for the newspaper at a critical juncture in its growth. It was also the first time I heard him exclaim: You have to say it with a certain enthused inflection, with ellipses and a bit of joie de vivre, emphasis on goat. I can hear him right now, slapping his knee for emphasis. Although the man was capable of extreme eloquence bordering on the profound, his capacity for the joyfully profane and the cute colloquial phrase was as endearing as his wicked smile and his disdain of authority, injustice, and the just plain stupid.
Little did I know that day I met him that just a couple years later I'd rent for six months the house he built by his own hand—both before and after his accident—in a bucolic paradise in Adobe Canyon near Patagonia, where a broad watercourse flows down from the Santa Ritas, just below the gaze of Mt. Wrightson, and where the oaks grow thick. It's a place that is iconic in my mind: That was the end of my time in Adobe Canyon, the duties of running a newspaper requiring my constant presence in the city.
It was also where, many years later, we convened with Tucson Weekly angel investor Sidney Brinckerhoff, his son Bill and some others I can't remember to shoot every conceivable form of personal firearm, including machine guns, off the roof of his garage, in a festival of firepower that left a vast cloud of gun smoke hanging over the canyon. As gentle as a lamb though he was, Jeff had a fondness for guns. And it was at that same house where I sat down with Jeff, after nearly a dozen years, and tearfully told him I had to let him go, in the summer of It was a time of epic struggle to keep the newspaper going, and every dollar we spent was problematic.
It was the consensus of the editorial staff that Jeff had become bored with his column, was phoning it in, and it was time to make a change.
I resisted for months, still a true believer that he was one of the most talented writers I'd ever publish, and I'd give him some more time, ask him to put in a little more effort.
But I finally capitulated, and drove down to give him the bad news. He was gracious, but he was clearly hurt.
And my business decision, such as it was, destroyed our friendship. Just a few weeks ago when I was down in Patagonia on business, I impulsively turned off the highway at Adobe Canyon mid-way to Sonoita and drove back to Jeff's house at the end of the road. I should have gotten out of the truck and walked up to his front door. I'd wanted to take that turn-off for a few years, wanted to make amends. But I gazed at his house for a while, turned around and left, not wanting to bother him unannounced and half worried he might just shoot me.
The last time we'd spoken on the phone, years earlier, he'd been angry with me and we'd never reconciled. And it was in that same house that Jeff died alone a couple weeks later, apparently peacefully laying down his burden and taking our leave without a word.
Jeff Smith was a whip smart ornery sweetheart of a compassionate and creative human and a writer of immense talent. Thank you, Jeff, and please forgive me for being one of the reviled publishers who did you wrong.
I'll catch up with you somewhere down the open road. Jeff was an outsized character who packed more living into his 67 years than anyone else I know. He bounced from absolute joy to unspeakable tragedy and back again in a way that surprised all of us who knew and loved him. He was one of the most talented observers and gifted essayists of life in Southern Arizona; he confounded editors one day and enchanted them the next.
I was his editor and I was his colleague. The TV people told Jeff they would like him to wear a sports coat—which was as out of place as eyeglasses on a cat. But Jeff complied, leaving a ratty tweed jacket wadded up on the bottom shelf of a monitor cart in the TV studio where he could grab it every Friday.
It may still be there for all I know. Working with Jeff was never boring. Jeff one time was sent on a two- or three-day trip to Houston for some story. The details of the trip were never fully explained, but it involved a flight during which Jeff became acquainted with several of the flight attendants. There also was a rental car that Jeff picked up at the airport, and a trip to an airport-area bar with some or all of the flight attendants.
After a day or so, when Jeff was done with his assignment in Houston, he returned to the airport rental car counter—but without the car. He told them he had no idea where it was. We have the car, the rental car people told Jeff. Several hours after he had rented it, the car was found at the airport—not in a parking lot, but in an area normally reserved for airplanes: The circumstances were never entirely clear—to Jeff or anyone. But it apparently had something to do with the bar and the flight attendants.
The tale of Jeff's coverage of one edition of the Tucson Rodeo Parade has been told several times—especially his reportorial gushing over the Budweiser Clydesdales, who never actually made it to the parade. Less well-known from the same parade was Jeff's fascinating and touching—but apocryphal—reporting on the journey of a New Jersey garbageman. The man, as Jeff reported it, made a cross-country trip to Tucson with his handicapped son for the specific purpose of seeing the Rodeo Parade.
Jeff spotted the man holding his son on his shoulders. Jeff tacked this touching story on the end of his parade coverage. But an alert editor, knowing that this was the most readable part of an otherwise predictable annual event, moved it to the top of the story. Some time later, Jeff 'fessed up that this New Jersey garbageman did not exist. The editor was enraged, but Jeff proffered an interesting explanation: It was your fault for believing it.
We couldn't live with him, but we found out we couldn't live without him, either. I may have been the last editor to tell Jeff his services were no longer required.
But if I were to ever run a newspaper, he would have been the first person I'd hire. Mark Kimble, a former associate editor of the Tucson Citizen, is a spokesman for U. And working at the same newspaper meant he would no longer be ruining my life.
I had been a reporter and photographer at the Sierra Vista Herald-Dispatch for two years before getting hired at the Citizen. During much of that time Smith was covering Cochise County. He regularly rubbed our hick town noses in his wild reporting, whether it was features on crusty local cowboys or hard news from the wild border just south of town or our whacked-out local government down Fry Boulevard. Whatever he was writing, it was bad news for us. It wasn't bad enough that he was kicking our butts on our hometown turf, it was that he did it so well—and he was so damned loud about it.
I remember once having someone on the Herald's staff, maybe my city editor, tell me, "Jeff Smith just tore through town on an orange motorcycle doing at least 80 mph. Something must be up. I was going to be spending the rest of my day, and maybe the night, trying to figure out what the hell he was up to and probably having a miserable time trying to duplicate it.
It'd probably be read-him-and-weep time again tomorrow when the next day's edition of the Citizen plopped down at the Herald. Damn, what an ominous sound that was. One of those Smith-on-a-motorcycle-tearing-through-town warnings, in Julywas a false alarm. But even that one was memorable. It was, indeed, Smith.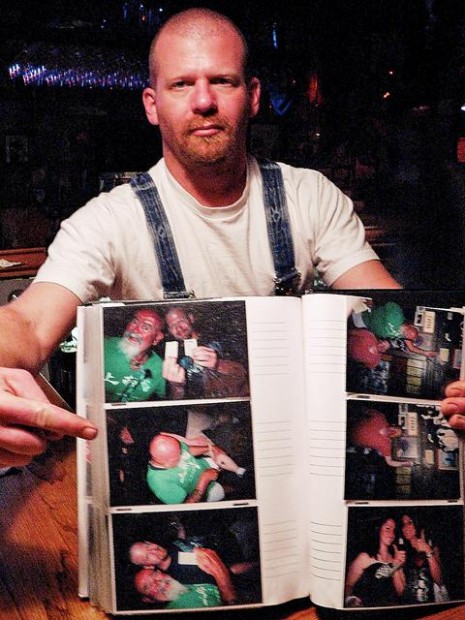 But he was, for once, on a wild goose chase. The murderous Tison gang had escaped from the state prison in a Florence a day or two earlier, and Smith was following up on a tip that they were in Cochise County. A few days later, after the rest of the gang had been killed or arrested, Smith was there on his motorcycle taking notes when the cops found leader Gary Tison's "stinking corpse" in the desert outside Casa Grande.
Smith didn't believe that straight news had to be dead boring. According to stories I heard, he also thought it was OK for a reporter to show up at a crime scene on a badass motorcycle with a. You could almost smell the dead killer's body and feel the late July heat in Smith's description. There was none of the typical copspeak quotes about how "at this point in time the location of the deceased suspect's remains were ascertained and the aforementioned suspect blah, blah, blah.
In this case, it was Tison's "stinking corpse," or something equally colorful that a police public information officer would have never uttered in front of a reporter. Working with Smith was a lot more fun that working after him.
He was a joyous character, always ready for a discussion or a three-beer lunch. He, with editors Dick Vonier, David Mitchell and Deborah Block all gifted writers themselveschampioned strong writing and spirited reporting. It was a good time to be a young reporter at the Citizen. Those of us who were a few years younger than Jeff took his joyous and sometimes wild writing as a sign that we could, and probably ought to, do a bit more than just filling in those Who, What, When, Why, Where and How blanks we'd learned in journalism school.
Turned out that action verbs and lively adjectives and adverbs were free. Unlike a lot of reporters, Smith had a lively life outside of the newsroom, too. He signed me up for the annual fall ride to Ruidoso, N. He sold me that orange motorcycle he used to terrorize us with when I worked in Sierra Vista. I went, that year, and the next, when he ran his Ducati off the road into a tree near Reserve, N.
Smith's after-work persona wasn't that different. He enjoyed poking the world in the ribs. That was, no doubt just as he wished, a hit with the quiche and chardonnay crowd. I can't say that he slowed down, literally or figuratively, after the crash. He made the Ruidoso ride on a new motorcycle with a sidecar. It had custom hand-activated controls and, in typical Smith fashion, the thing was fast. He'd heard I had worked construction in my pre-newspaper days and Tom Sawyered my ass into helping him build his adobe and block house in a canyon outside Sonoita.
He'd show up at my house on Saturday mornings way too early and lay on his old pickup's horn until I came out and joined him for the ride down to Sonoita and a day of nail bending.
I remember that he did every bit as much work as I did, memorably, at times, hanging from a beam by one arm while swinging a hammer with the other. Over the years, I've heard a lot of people talk about Jeff being bitter after the motorcycle-versus-tree crash that paralyzed him. I didn't see him that way. He was sometimes depressed after the crash, dealing with wave after wave of health issues that came with being a paraplegic.
But, after all, he had raced bicycles and motorcycles and was a body builder, and was somewhat vain, to put it mildly. Why wouldn't that get him down, at least occasionally? He mostly kept that to himself. The only times, before or after the crash, that I ever thought he might be truly angry was when he was dealing with certain editors. But, even with most of his editors, his bluster was good-natured sparring. It was usually a gross mismatch, especially editing Smith on deadline.
It was an editor's nightmare to have a Smith column dumped on their desk on deadline, suspecting that the thing might be mined with Smith word mischief. But, hey, that was their problem, he figured. If they were taking the big bucks to be his boss, well, then damn it, they'd better be as smart or smarter than he was.
Sometimes the beef was that he just made writing look too easy. Smith would be making the rounds of the Citizen newsroom, gabbing with reporters and editors who were working on deadline—his own editor looking at his or her watch and thinking "he's got a column due in 45 minutes.
Then, about 30 minutes, sometimes 20 minutes, before deadline, he'd sit down and pound out a column that might or might not be good enough to win some kind of a contest, but it would most certainly be the first thing a lot of Citizen subscribers would read the next day.
And he would never read it after he wrote it. He'd type that last line, hit the "SEND" button, push himself away from the desk with a Cheshire Cat grin, and it would electronically plop down in that stressed-out editor's green terminal. I was in a few bar "situations" with him, usually on motorcycle trips to New Mexico, where the things he said, or did—sometimes because of the women he chatted up—could have ended in flying fists or, possibly, lead.
My best guess is that the reason these situations never went that way was because Smith had that twinkle in his eye that said, "Ain't life grand? Aren't we having a hell of a time here? His columns often went the same way. He'd do his job: But even after 18 column inches or sometimes 50 of clever dissection, insults launched and landed, Smith's drubbings were usually, ultimately respectful of the flawed human.
It was a form of tough civility from another era, agreeing to disagree—at least Smith was agreeing to disagree. But nearly always you'd get the feeling that Smith and the just-skinned victim could eventually be able to sit down and talk about it over a glass of something strong. The way I saw it, then and now, was that Smith was channeling Mark Twain, Will Rogers and a bunch of other clever rascals who were worth reading and usually made the world a better place.
Dan Sorenson has been a journalist and musician in Southern Arizona for 35 years. His rationale was simple: What he wrote and the way he wrote it were always more entertaining and often more enlightening than the "news.
One of those times, in the days when typewriters and carbon paper were newsroom indispensables, Smith's nonroutine story on a routine event came into the hands of a cranky, old-school editor right out of the black and white movies.
The editor read aloud the first page and the first paragraph of the second page of Smith's story. Smirking, he dropped the first page into the trash and sent the rest to the back shop for printing. It ran that way, the news being on the second page. Well, hell, one could hear Smith muttering. But he got over it. There was another story, another lead to bury, another cranky editor compelled to smirk.
There were many more, especially in his latter years of newspapering, when Smith wrote a weekly column on the Tucson Citizen's op-ed page. Not so much wrote as emoted on newsprint. His masterful use of language—never mind his nonchalance about the facts—is what led many former colleagues and fans to mourn his death as a loss to Tucson's reading public. And that it is, a superior talent gone, too quickly, too quietly. Yet Smith himself would have insisted he wasn't even the most talented writer in his family.
That distinction, he said, fell to another. In his March 6,column in the Citizen, Smith pulled out all linguistic stops in sculpted words on the life and death of one Dave Smith, an ex-Los Angeles Times writer. In what was a most memorable and effective burying of the lead, he ended the column: On that corner was a Circle K where I could plunk 15 cents into a rack to get the Tucson Citizen—a "Republican rag" my father didn't allow in our house. I bought it every Wednesday or was it Thursday?
Then I'd toss it in a Dumpster before I got home. I should have saved 'em. Thirty-seven years later, working for Mark Kimble on the Tucson Citizen editorial board, I was assigned to edit Jeff's weekly freelance column. The teacher was kind enough to still let them attend and wait until her dad could afford to buy a pair for them both.
She also remembered a year when the school was having a Christmas Concert and all the kids were talking about Santa Claus. Since her Mother passed away within the Christmas holidays they were never really celebrated or spoken of. But this year, on Christmas Eve, her Dad told Clifford and her to put a stocking up on the clothes line, maybe Santa would come. It was and that was the first year they had celebrated Christmas since her Mother passed away. Summer would come and Dick would be the go girl — go for the horses, go for the cows, go chase the pigs.
Her Dad was a very hard taskmaster and was not one to spare the rod. She would help him move cattle to town to sell. One time they rounded up the herd — about 20 cows — and drove them all into town. After they cut out one or two, he helped her cross the highway and then left her to bring the rest of them home by herself.
By the time she got there everyone else was in bed, and she went crying into the house. At the age of 10, she would come home from school to do the morning dishes and daily chores. There were a lot of sweat and tears put into this operation. Inside she found the most beautiful doll she had ever seen and fell in love, but when she was rewrapping it a letter had slipped out and her Dad found it the next morning.
Realizing what she had done, he made her take the beautiful doll to the neighbor kids. There was a time when she ran away and stayed the night with the neighbors and she had found her doll torn to pieces. When she was about 11, she had a satiny blue dress that she wore for years, it was the only one she owned. For the Christmas Concert she had washed it and was pressing it with the old sad iron and managed to burn a hole in it.
Polson could mend it. The cattle never got fed that morning because he took the team and sleigh and drove to Polsons to get the dress fixed. While waiting, Gramma received a call at home. Tainsh was making her one and did she want pink or green. Tainsh had torn her own dress apart to make her one and the teacher had rearranged the program to put Gramma on later. When she saw her Dad, he had a box with a lovely green dress and she was so happy.
When she thought of how many miles her Dad drove that day and the kindness of two wonderful ladies she then realized that her Dad kinda liked his little girl. Never having any experience with children she was shocked to find twin 5-year-old boys, a one-year-old boy and a very pregnant Mother.
She came to love those bratty twins, wee Dougie and baby Cheryl. This is the time when she met the love of her life, Arlos Tkach. They were married September 11, in Consort and from this union came 6 beautiful children: They lived in Consort, then moved to a farm south of Veteran. My Mom recalls when Gramma was raising turkeys, chickens, and pigs. The kids would help slaughter, pluck and clean the turkeys, then everyone would pile in the Chevy 2 and peddle turkeys around the area before Christmas.
She remembers going to the Coronation Auction Mart where Gramma bought two small calves. The calves were loaded in the back seat with the kids holding them down till they got back to the farm.
Gramma worked all her life — the kitchen in the nursing home, a waitress, a cook, a store manager, a barmaid, even as a printer at the Consort Enterprise where she worked with her dear friend, Mary Readman. Gramma was a little league baseball coach hauling kids around to all the games, a bookkeeper for Jim Slater, worked in the greenhouse for Wilma Slater, and spent time with Kory Krotesch in a butcher shop, and owned her own store.
They went to write the exam in Castor, time passes and she proclaims she was finished and heads out, gravel flying from the tires on her way.
Turns out she was in too much of a hurry to finish so she failed to follow the essay instructions, did not write a draft and did not pass her GED. She also loved bowling, and has a game to her credit; as well as bonspieling; knitting; and was a Legion Member in Consort. She was a world traveler and loved it ever so much.
Jose "Joe" Chavez Ruiz Obituary - Oro Valley, AZ | ObitTree™
It was during her trip to the Holy Land when Grandpa Arlos passed away and the travel bug was lost a little. Gramma always said she had a good life with no regrets.
Her love and caring way was evident by all the people she helped. She loved to visit and spent a lot of time going to Bingo with Aunty Jo all over the country and visiting casinos. Her days at home were spent reading, resting and watching TV. She was very content with her life. She managed to stay in her home because of so many people willing to help out: She had a dear neighbor down the hall, Anne Lakusta.
Anne would always check on her, feed her, and just be there for her. We, as a family, would like to say a special thanks to Anne for her thoughtfulness toward Gramma. In the mornings she would have home care come in. Anne came for coffee and would sometimes stop after dinner.
Auntie Jo also stopped in whenever she was working, stopping to shop, get the mail, play nickels or take her to play Bingo. We all stopped when we could. She was a daughter, sister, wife, mother, grandmother, great-grandmother, great-great-grandmother, and great mother-in-law.
And most of all a best friend to all in her family. She made a point of keeping in touch with her grandchildren. She always listened without judgement and always tried to solve our problems. She never wanted to be considered one of those old ladies and was still sharp as a tack with a frisky side to match. When she first moved into the manor you could still smoke in your rooms, some of the other residents were non-smokers and did not like it very much.
Betty asked her what she was doing. We all loved that woman as much as anyone could, she will be missed by so many and has left a deep hole in our hearts. Today we cry for the loss of an amazing lady, but we will always remember her with a smile.
I know she will always be an angel on our shoulders still taking care of us. Whenever she started a new journey she would say a little prayer. Nevertheless my thoughts are with Gramma and all of you. We laughed and talked for hours drinking tea and coffee. Gramma told so many stories about the cousins and the family.
Even getting Jing to sing Christmas songs. We had such a great time. As we were leaving Gramma hugged me and told me she is a keeper and to marry her. And now when I look at my beautiful daughter I remember that afternoon and thank my stars for Gramma and that day.
I will miss you Gramma but I will never forget you. She was still at home, although her health had been deteriorating for some time. They were poor — we all were back then. Elsie was born December 2nd, and we celebrated her 85th birthday this past December with friends gathering for open house and tea hosted by the family. We were about eight years of age and a lifetime friendship was born. She rolled it just north of the Marion Kelts farm and I still bear the scar.
We learned how to hand-set type at the Enterprise, the weekly newspaper in Consort. Her uncle, Wilburn DeWolfe, had operated this business sincetaking over from his sister, Mabel.
We were young girls — teenagers full of life and likely to burst forth in giggles — something that stayed with us through the years, as we shared the same sense of humor. A few years later, I was her bridesmaid, when she and Arlos Tkach married.
Her dad had once told her that she would have a large family — he saw this in an omen when she dipped right to the bottom of the soup pot. He took that as a sign and she did, indeed, have a large family. Four boys and two girls were raised by Arlos and Elsie and even though sometimes life was hard, those kids were raised in a happy, close family, and I was honored to be close to them, too. Elsie and I remained close friends — she was the nearest thing I had to a sister — and during the years, Bill and I, along with Arlos and Elsie, travelled together; sometimes big trips and sometimes just to a dance — and we played cards, lots of cards.
It became a tradition that on Boxing Day, we would go to their home at Veteran, for games, eating up the leftovers and visiting. After our men passed away, Elsie and I continued traveling together, going overseas or on a cruise, until her health curtailed her.
She has been a resident of Coronation for some years and I was often there to visit and play cards. She cared so much for people and was always ready to help wherever she could. One birthday, I was especially upset, so she came here, picked me up and took me to Edmonton, to a Casino, where she even found a little piece of cake for me to celebrate with.
There are so many memories from these long years together. I will miss her dreadfully, but take comfort in knowing she is again with her beloved Arlos and the two sons, who preceded her.
The following poem says it all. Card of Thanks The Tkach family wish to thank the following for all their thoughtfulness and caring during the recent loss of our Mother. Heather Caseley for her guidance in our arrangements for the day; Darrel Durksen for kind words and being with the family; Mary Readman for her thoughts of our Mother; the Veteran United Church Ladies and the Talbot Homemakers for the delicious and plentiful lunch.
Your thoughts, prayers and words of sympathy were greatly appreciated. He will also be fondly remembered by his sister, Lillian; and brother, Marin; as well as numerous nephews, nieces, extended family and friends.
A special thank you to the staff of Citadel Care Center who lovingly provided comfort, care and happiness to Alex during the last years of his life. Two years later she was joined by a sister Patti, and when Debbie was 9 and 12 years old Don and Dave entered and completed the family.
As the eldest Debbie was most often the leader and kept the children going from adventure to adventure. She pursued a degree in education.
She came back to Walla Walla and finished her teaching degree where she met the love of her life, Lawrence Letniak. On June 29, the couple exchanged vows in Sandpoint, ID. Adventure and challenges never deterred Debbie and the newly-weds began their first year of married life in Zimbabwe, Africa where they both taught school. After their year of missions was over, they came back to the Alberta prairie lands, where she embraced farm life with the same vim and vigor that she did everything.
When it came time for the children to go to school it only seemed natural that Debbie would teach them at least for the first few formative years. In she returned to the workforce and spread her joy and enthusiasm for education throughout the community.
She worked at various schools in the community as a teacher and speech therapist assistant. In January she became the principal of Veteran School. She was a dynamic, passionate, and energetic educator and administrator. Throughout her life Debbie served her church, community, and educational system on several boards and committees.
She always looked at the needs of the children as her foremost concern. She raised funds, served on the board, and brought in motivational speakers for the students. She retired from teaching in July of in a conscious effort to spend her time with family and friends.
At her core, she loved adventure and enjoyed including others. The last 18 months were challenging and emotional as she fought against a glioblastoma but Debbie drew strength from her Creator. You never found her disheartened or discouraged. She filled her life with positivity and thankfulness. Family and friends drew closer than ever. Love and support never wavered. She was a friend of Jesus, our Savior, so she lived and died with the promise that she would be part of the resurrection when Jesus comes again.
Ten nephews and six nieces. The Letniak family would like to express our sincere gratitude to all those who have shared comfort and encouragement with us during this time of loss.
CB Obits Years
Lunch followed immediately after the service at the Veteran Community Hall. Condolences can be forwarded to the family by visiting our website at www. I knew her as my older sister, Sis, best friend and confidant, encourager, and leader. I find it difficult to believe why we are here…. But here we are. I am pleased to tell you a little about the Debbie her family knew and loved.
Debbie was born just 27 months ahead of me.
We grew up in north Idaho, in the small town of Sandpoint, nestled between the mountains and the lake. When she was in the first grade she would come home excited to show me what she had learned and she would sit me down and teach me to read…so I was reading long before I entered the 1st grade…in fact that year they just put me into the 2nd grade because of the good teacher I had already had.
She was putting into place her excellence in teaching at the early age of 6. And she kept teaching me. She taught me that life is more fun when you make it an adventure. She was always searching for adventure. She always wanted to ride. We rode horses over mountains, through the woods, we swam them in the lake.
We were just talking a few weeks ago how we rode them over a long railway trestle! So maybe not the best adventure choice, but it does give good memories if you survive it! She loved building family memories. Our brother Don, who by the way, is alive today because Debbie saved his life.
She breathed life into his small 2 year old body after a near drowning when she was only 11 years old. He has a memory with Debbie and the horses. One of his earliest and fondest was when Debbie took him up to the barn to watch a foal being born. Debbie had just created another sibling with a love for horses. Having a sister and two younger brothers always gave her someone with whom she could entice to have fun with…it might be the horse ride, motorcycles, water or snow skiing, hiking, biking, or camping.
We Siemsen children were extremely blessed to have parents who provided the opportunity and encouraged the family fun together. And our brother Dave remembers that he always gained energy from being around Debbie. She never stopped moving or having wonderful ideas.
She always wanted to have an adventure. And you know what, they always did. When you were with Debbie, boredom did not exist. Debbie had a heart for others. I think many of you here today knew that part of Debbie too. After her freshman year at college, she signed up to be a student missionary to Africa for the following school term.
She taught English there and fell in love with her students. Debbie always had the ability to adapt to any culture and make it her own. Our parents, along with Don and Dave, went to Africa to visit Debbie while she was there. Don, about 10 at the time, remembers when Debbie and he were walking around the open air market and she allowed him to get a baby crocodile. I am sure no one took the time to ask our mom!
But Don was so excited while walking back, proud owner of a baby croc. Once home the people Debbie was staying with took the baby croc and flushed him down the toilet.
Don stood just starring. What did they do that for? They flush baby crocs into the sewer system to take care of less desirable pests.
But she had gotten him one because she thought it would be so exciting for him to have it, short lived as it was. When it came time for Debbie to return from Africa, she toured for two weeks all the way home, sometimes with other youth, much of it by herself — frightening our parents and canceling their sleep.
Young 19 year old — traveling as long as she could afford the time to see as much of the world as she could. And then — Lawrence whisked her off to Alberta! We got together as much as we could — at our childhood home in Sandpoint, at various ski mountains to ski together as our families grew, numerous camping trips, lots of bike rides.
Many of them right in the midst of the beauty Canada offers. I have always been impressed at how well Debbie adjusted here. She once again used her skills to adapt and make this place, this country, part of her. It was an adjustment to farm life and I might add, the cold winter weather, but I never heard her complain.
It was all just part of the adventure of living here. Talk about adapting and working with what you have — she even drove around the pastures on the four wheeler, collected perfect cow pies, dried them, treated them with coats of sealing spray, and turned them into clocks. She became quite the gardener and sold produce I seem to remember that growing up she had quite an aversion to gardening, especially weeding but here, she came to love it. She even started her own greenhouse business.
She impressed and inspired me. I was incredibly proud of her. We loved hearing about her teaching experiences. She had a special connection to David because he is an educator as well.
Jealous in an admiring way because they got to work with and spend time with her professionally. Dave believes that he is the teacher he is today because of their endless talks about motivating students and creating units or lessons that meant something to the kids. They would run ideas off of each other and plan out how they would accomplish these tasks.
We saw that she was a life lesson teacher to not only her students but to our children too. They would love coming up to the farm and spending endless hours riding horses, racing around on the four wheelers, driving the combines with Lawrence, working in her garden and picking the produce.
Our families all cherish the memories of our trips to the farm. So the Debbie we knew and the Debbie you likely knew was one who never backed away from a challenge. She chose the more adventurous route…. The trail is strenuous and steep with several drop-offs where they actually put chain ropes along the way.
But she did not choose the adventure trail that happened next. About 3 months after her hiking feat, she drove the 10 hours to Sandpoint to spend the 4th of July with our mother. In a swirl of events that happened next, she was hit — we all were — with the devastating diagnosis that she had a non-operable glioblastoma. We were all determined that we would do whatever we could to build her up, to make it better somehow, to get the best possible outcome.
She never had backed away from a challenge — and she did not back away from this one either. She took on the challenge to do what she could do to fight this tumor with the prescribed radiation and chemo, to adopt an even healthier diet — she claimed to love all the different foods we fixed for her — exercise, positive thinking, gratefulness without complaining, but most of all, her faith in God.
2018 Obituaries
And it gave her 18 months — many more months than the doctors said would be hers to live. We are so thankful for this time. She was even able to hike several miles for the 1-year-survival celebration hike last summer. Debbie lived her life as a teacher — beginning at the tender age of 6….
She taught us about gratitude which casts out despair. She taught us about faith which helps bring peace in the fear. She taught us about being strong when the body grows weaker. She taught us about caring about others when you yourself are trying to survive.
She taught us that when the realization and disappointment hits that the glioblastoma is going to win, that in the end…. Because one day, there will be a healing and a renewing when Jesus comes to take us home. She believed this with all her heart and as a friend of Jesus — she knew and claimed the promise from her Savior. We were so very fortunate to be part of a family that was close growing up, stayed close as we grew our own families, and came together so tightly as Debbie fought this invasion on her health.
Yet we are thankful, that to a great extent because of her, we have wonderful and amazing memories — memories that keep her always in our heart. But at school she was Mrs.
Letniak, or as one young student called her, Auntie Letniak. Through the years, Mrs. Letniak was involved with Veteran School in many capacities: As well as her years teaching in Veteran, Mrs. Letniak taught in Africa, Brownfield and Coronation. At one time she taught ECS and Jr. High Foods on the same days. She would gracefully sail into the school with a small kitchen appliance tucked under her arm, a bag of frozen apples from her own tree and miscellaneous items to enhance a kindergarten lesson.
That is how she approached every situation, finding the good and making it better. Letniak held high expectations for her students. She encouraged them to behave and work in a manner which would make them proud of themselves. She celebrated their accomplishments and consoled them through disappointments. She viewed lack of success as the first step to finding an alternate plan, not failure. When a student or staff member talked to her, she listened, without rushing to judgement or interrupting with a solution.
She was a strong advocate for students and respectful of staff members. As a principal, she saw herself as an equal on a team. When necessary, she was willing to make difficult decisions and take ownership of consequences. She believed the most important ingredient in a successful school was good relationships with all of the people involved.
Whether recovering from a migraine, experiencing back pain from a tipped quad incident, or lacking sleep after arriving home from a long trip just in time to get ready for school, she gave her whole attention to the task at hand. In fact, no one even knew of her discomfort unless they noticed subtle signs.
One day after school, she made a house call to check on a student. Shortly after, she returned for a meeting. She was composed and attentive during the meeting. Later, when someone noticed the blood on her leg, she confessed that she had been bitten by a dog. To escape she had crawled through a caragana hedge in her skirt and heels.
Letniak showed good judgement and the ability to make decisions based upon reason rather than emotion. Every rule has its exception. More than once she would arrive at school when road conditions were nearly impassable. One particularly nasty morning, when asked why she came when busses were cancelled, she responded that she had started out and realized she was in a white out.
Her driving skills were not limited to heavy roads.
Jeff Smith 1946-2013
Had she not chosen education, she would have made an excellent race car driver. Letniak had great diplomacy skills and a knack for persuasion. Once this had been accomplished, she contacted CFB Wainwright to arrange a guest speaker for the surprise ceremony to present the medals. A high ranking officer was astounded by her request. The presentation ceremony for Mr.
Pennington was covered by CBC television. As a result, our Jr. High students were invited to Ottawa by Dr. Letniak eagerly put in the work to make it a trip the students and supervisors will always remember. During her time as an administrator, Mrs. Letniak was nominated for an Excellence in Teaching Award in the principal category. In the years to come, we will be reminded of Mrs. Letniak when we look at the school orchard and the evergreens growing around the playground, projects she initiated with lasting benefits.
We will treasure memories of her kindness, enthusiasm and energy. She holds a very special place in the hearts of her students and colleagues.
Debbie was truly an amazing woman in many ways. I want to start out with a scripture that I think describes the kind of person Debbie was and it is found in Colossians 3: Forgive as the Lord forgave you.
Now in saying that, Debbie was fun loving and always looking for a new challenge in life. Jan was telling how she used to babysit Ryan and Jodi, and on one occasion her and Debbie found out that Mr. Dressup was going to be in Red Deer and they got tickets for the event. Their seats were way up in bleachers and Jan said, Debbie was able to use her persuasive powers and before long they were back stage getting their pictures with Mr.
For anyone that knew Debbie, they would know that when she wanted something, she usually figured out a way to get it.
She loved plants, gardening, the outdoors, but she really loved skiing. Ryan and Jodi and our kids are the same age, so over the years of them growing up we had many opportunities to visit. There was kids club, skating club, Coronation Music Festival, school activities and the daily grind of school.
I mentioned to her on more than one occasion that if those kids acted like those politicians, they would get a spanking. Debbie seemed to like rules. I remember one field trip to Edmonton and I had a number of boys in my room and we decided to order in pizza one night when we probably should have been sleeping.
I always wondered if Debbie could have been a race car driver. I think she only knew two speeds, stop and peddle to the metal. As I recall though, Debbie seemed to get stuck fairly often. Jan drove back to Sand Point with Debbie last fall and Debbie was bound and determined that they were going to take the canoe out on the lake. Neither one of them was in any condition to go canoeing, but they somehow managed to get it on the lake. I think that was the last trip Jan and Debbie went on. My wife Pat had the opportunity to work with Debbie for the few years she was principal at the school.
She said that Debbie was always a pleasure to work with and a great friend. She will be greatly missed by her family and friends and we will continue to pray for the family as they walk this new journey. Card of Thanks The Letniak family would like to extend our sincere gratitude for the outpouring of support, kind sympathies, and condolences.
Thank you to Heather and the Coronation Funeral Home for their acts of love and service. God Bless each one of you. In lieu of flowers, donation may be made to a charity of your choice. Margaret Darlene Poisson Jan. She is also survived by her brother Richard Nellieas well as numerous other relatives throughout Alberta.
Margaret was many things to many people: Gus and Marg Poisson and children, Roy and Corrine, first came to Consort in and left again in November, of that year, as Gus was employed with Tri City Drilling and they followed the rigs.
Two years later, they were back, when Gus went to work for Chieftan Mac. InGus started work as maintenance man for the Village of Consort and remained in that position for eleven years, before going into the trucking business. Marg worked at the AGT telephone office in A year later she started work at the Royal Bank and remained there untilwhen their youngest son, Evan was born.
Obituary for Jose "Joe" Chavez Ruiz
VIDEO: LeAnn Rimes BUSTED For Condom Purchase In Bar Bathroom!
ByMarg was working for Harold and Ann Shannon in the hardware store and lumber yard. She took this opportunity to hone her skills as a business woman and to introduce her love of sewing to many people, teaching various sewing courses, and 4-H, retiring in After retirement she took up golf with the same vigor as everything else she tackled. Wintering in Yuma, Arizona gave her the opportunity to golf a mere three hundred or so days a year. She moved to Calgary in There was no funeral service, but a Celebration of Life was held Friday, February 2,1: In lieu of flowers, please make donations to The Alberta Lung Association.
At age five, Donna started school at Prairiedale and for three years made the trip with her Shetland pony and cart. In the winter she was taught at home. She attended grades 4 and 9 in Major. The years in between were spent at Gull Lake, Evarts Store and Sylvan Lake when her parents rented out the farm and the family moved to Alberta. Donna attended high school in Major, Kerrobert and Smiley.
In she worked at a bank in Madison and then in Unity for a short time. In Septemberher mother was employed as the manager of the Consort School Dormitory, so after helping her father with the harvest, Donna came to Consort to look after her young brother Ken. They settled down on the Fawcett farm and worked hard over the next few years to establish their own farm. They enjoyed having coffee together and taught themselves how to knit, crochet and garden. Gardening became a passion which Donna enjoyed for the rest of her life.
Her happiest times were spent planting and tending her vegetable and flower gardens. There was always lots of fresh fruit and vegetables in the summer and a well stocked cold room and freezer in the winter.
In addition to strawberries, raspberries and the orchard produce, there were fun days spent picking saskatoons in the Neutral Hills. Donna was a self-taught seamstress and very much a perfectionist. Between knitting, crocheting, cross-stitch and embroidery there was always a project on the go.
She developed an interest in quilting and made many beautiful quilts, most of which were stitched by hand. For many years she entered her handiwork and garden produce in the local Fair and was rewarded with a large collection of beautiful ribbons. Her interests also included writing and refinishing furniture. She taught herself to play piano and would accompany Charles when he played the guitar.
They had very musical parents: Ivadelle and Allison played piano; Tom and Neal played the violin. It had been a motel office so it needed some work to make it a home. Although this was all new to her, she took down a wall on the main floor and built rooms, closets and shelves in the basement.
Luckily she had Harold Shannon to talk to and he was generous with his advice. She learned how to install paneling, ceiling tiles, flooring, baseboard and doors. Then she modified the kitchen cabinets, built a pantry and repainted the whole house inside and out. When Charles came in from the field he would look a little bemused by the changes but would not offer much in the way of comment.